Break the Chains of Smoking Hybrid Program
We know that some people would rather have someone walk them through this process in person. If you want more help during your 30-day Break the Chains of Smoking hypnosis program, we have a hybrid option. It combines the digital content from the program with live coaching from Todd or Gina. Choose this option to have FIVE 20-minute, Zoom-based, coaching sessions over several weeks that provide ongoing advice, support, and accountability. Todd or Gina can also answer any questions or deal with any problems that may come up along the way. After one of the coaching sessions, you will receive a hypnosis recording (made just for you) to complement the pre-recorded sessions from the online program.
This combination program is $1277, and – unlike the digital-only, online program – it's NOT covered by the 30-day money back guarantee. But we do have a 48-hour cancellation policy, so if your plans change, make sure to let us know in time to avoid a $97 fee.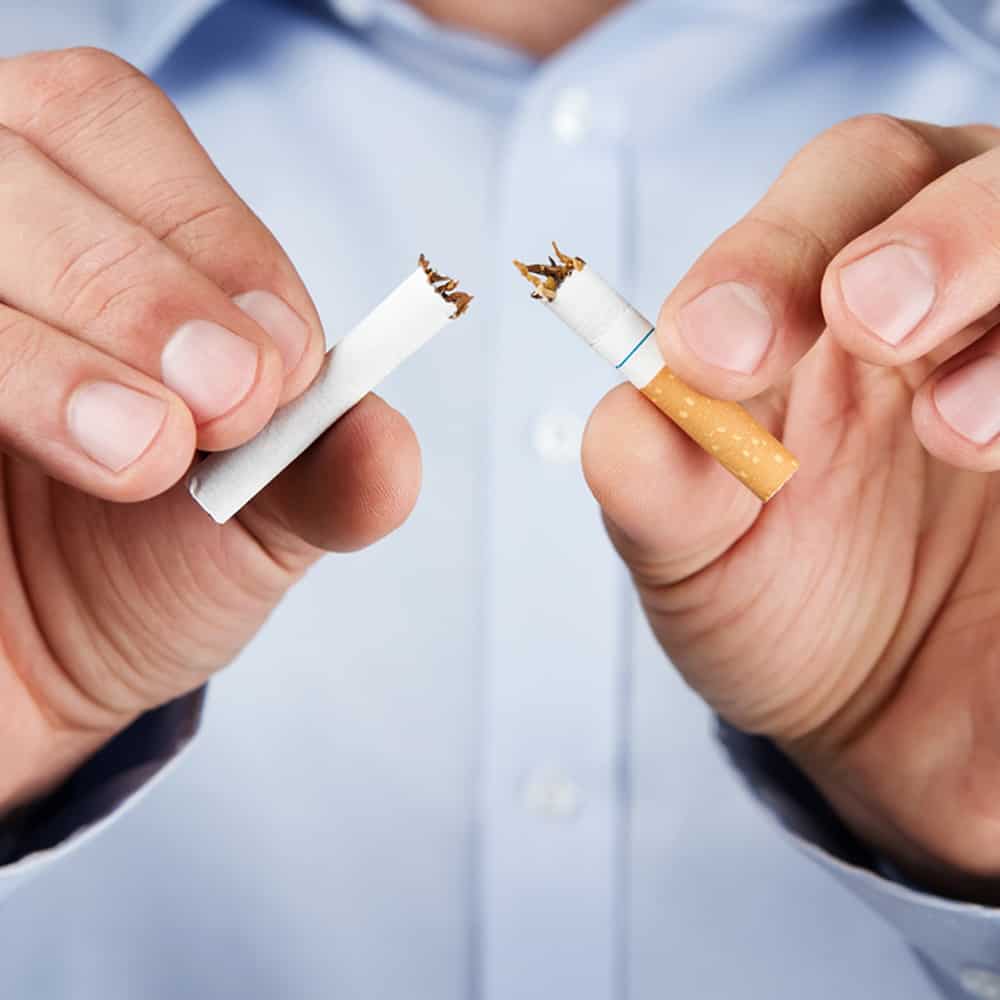 Here are the easy steps to follow:
"I was an avid smoker, smoking about 2 packs per day. I was smelling like a cigarette and thought that I would never be able to stop until I read and heard about this center. It gave me hope and I tried it out. I have never smoked a cigarette again. I also have NOT gained weight. On the contrary, I have lost weight because now I am doing more sports than ever before. Everyone around me comments on how my skin is glowing. I feel FREE and most of all, it showed me that I am not controlled by anything and that I am in control of my choices and my life. I now go out with friends and drink my usual wine or beer and see smokers all around me and it seems to me like smoking is part of another life of mine, one that I already forgot about! THANK YOU GINA! I strongly recommend this method for anyone who has tried to quit alone or thinks they are a slave to cigarettes. It was a GAME CHANGER for me!"
"I was a smoker for 22 years and had tried quitting several times unsuccessfully until I found Gina and Goodwin Hypnosis a couple of months ago and I can truly feel the difference this time. Not only did I quit smoking (cigarettes have barely cross my mind since I started the therapy) but the whole experience triggered a chain of massive changes in other aspects of my life such as radically cutting my alcohol intake, better eating, exercising much more and relaxing more easily. All of these just happened so naturally and smoothly that I have not even struggled with my 'old ways'. If you want to quit smoking or tackle any other issues you may have do yourself a favor and contact Goodwin Hypnosis, I guarantee you won't regret it!"
"Ms. Gina Goodwin has truly helped change the ways I deal with stress. I came to Gina in October of this past year with major stress and anxiety which lead to 15 years of smoking, nail biting and some hair thinning (yes, I didn't know stressed caused that!). After meeting Gina at my place of work and telling her about my anxiety she recommended Hypnotherapy could help me learn to control those feelings and help me stop smoking. Gina told me of her experience and really inspired me to seek help. Our session was a break through for me and not only have I not smoked for 8 months, I haven't craved it which I think is the biggest success. I handle stressful situations in such a calmer manner my employers have even taken notice! Thank you so much Gina, I'm looking forward to seeing you again soon!"
"I don't usually write reviews but on this ocasion I am more than happy to do so since Gina and Goodwin Hypnosis have changed my life for better. I am 60 years old, having smoked cigarettes for the last 45 years and having tried to quit several times without success. The last several years I have been a very heavy smoker. More than a pack a day. In my search for options on help of how to quit I found Goodwin Hypnosis on the internet and after reading all the information they provide on their web page I decided to try. It was the best decision I have taken in a long time. Gina guided me through their cigarette quitting method and gave me tools to stay a non smoker. Today it is six weeks now that I dont smoke, coping with the quitting process without problem. If you want to quit smoking dont loose more time and call Gina. Their method works!!"
"I was blown away with the outcome of my sessions at Goodwin Hypnosis. I met with Gina Goodwin for a consult to quit smoking. I wanted to kick the horrible habit and get myself into tip top shape. Heath & nutrition is a big part of my life so I wanted to practice what I preach! Well after just 3 sessions with Gina I feel like I have never smoked a day in my life. I'm going to the gym 4 times a week and at 43 I'm in the best shape of my life!! I'm full of energy & so much more positive. I cannot believe how easy it is to be around smokers or even drinking a few glasses of wine and have NO desire or urge at all to light up. THANK YOU GINA! You have changed my life and I'm forever grateful. I highly recommend if you want to say goodbye to bad habits & have positive changes in your life that you go see Gina NOW!"
*Testimonials by former clients of Todd or Gina Goodwin are true and factual. Goodwin Hypnosis, its officers, and personnel, do not imply or claim that these comments represent typical results. Results vary depending on age, gender, lifestyle, motivation, and individual commitment to achieve a desired result. These clients voluntarily offered their feedback and were not compensated in any way. Each comment is the opinion of one person at a specific time and should be considered only in that context.